Getongoroma Health Centre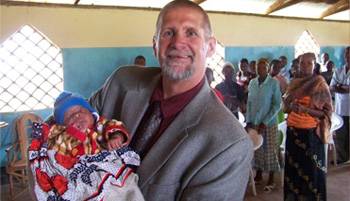 Foundation Ministries' Getongoroma Health Centre was opened 4 years ago in the remote Kuria district of Kenya East Africa. It is operated by the local people who have licensed qualified people to treat patients and runs 24/7. Since its' inception it now treats all top 10 diseases of Kenya and performs minor surgery. It's maternity service has been a glaring success in lowing the % of infant mortality within the Kuria district which has one of the highest within the country. This was due mainly to lack of qualified mid-wives and un-healthy tribal customs. The Health Center is active in education of the local people in community health, planned parenting, HIV/Aids testing, and general preventative practices. It still struggles with a lack of electricity but hopes this will be rectified soon.
Due to the generous giving of donors (Rensola, IBM, ICR, VT University) they have been able to receive solar panels to power the clinic but have been unable to raise the funds for batteries and electronic equipment to put the panels to use. They have equipment to raise their level of service if only they had power. Would you consider partnering with us to raise funds for the purchase of the needed batteries and electronics? Please pray with us that God will continue to make a way for these precious people to be treated.
Women Groups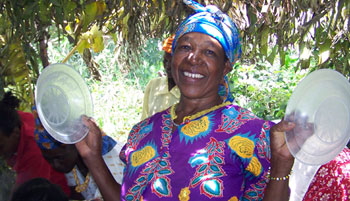 Women in Kenya continue to struggle with traditional or tribal customs that limit their ability to be productive contributors in social development. Over the past few years they have been able to gain the confidence to publicly step forward with a voice on issues that affect them greatly. One such group is the women's group at Getongoroma, who has formed and is battling female genital mutilation. This custom continues to be practiced in the tribe and has been very harmful to the young ladies.
Many suffer greatly as a result of FGM with life-long issues up to and including being unable to ever bear children. They desire to continue to move forward with a voice but are very limited as they have no means to earn money other than what is needed to feed their families. Foundation Ministries has a vision of assisting them to open small shops where they make trade goods, become seamstresses, operate hair salons, or begin craft-making as they enter and become entrepreneurs. If you are interested in helping us brighten their futures, please donate to this cause.
GETONGOROMA WOMEN'S GROUP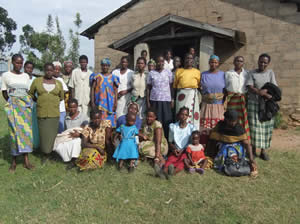 In the rural southwest corner of Kenya in Kuria District, a group of 25 brave women has begun a group designed to better the life of all those in the community. Their vision and burden is to assist and build a strong community environment that will provide safe and suitable home lives for each family. In this rural area which is held in poverty and traditions that have broken so many homes, these women have stood up to be examples for others to follow. They gather each week and discuss how they may address the most pressing issues of their community.
With homes snared in poverty, the rampant alcoholism found within the community continues to entrench many of the homes in despair and lack of basic needs. The group has set out to combat this by first starting within their group. They gather what little they have, sell any extra that might be left from their harvests and perform any odd job that might be available to raise funds to purchase 2 cups and 2 bowls a week. At the beginning of the week they visit a home and give those offerings to that home to ensure they have utensils for the family to eat with. During this home visit they each also donate cash to assist the mother of the home to purchase tea and scuma (a common vegetable) for the evening meals. All in an attempt to keep the husband and children home so they will not be pulled into the negative activities associated with being out at night.
"We want our husband and children to know how important they are to us and that we can build ourselves up," says Bina Magabe the chairman of the group. I sat and listened to them describe their vision to ensure that each home of their community has basic commodities, such as mattresses to sleep on so they do not have to sleep on the dirt or bare cement flooring. One of the ladies expressed her heart to make sure that each of the children had a blanket. It was so burdensome to her to see the children with colds, flu, or other such diseases because they get cold in the night.
The group wants to let everyone know they are doing what little they can do to build up their community and desires the prayers of all who might learn of their plight.
They also expressed larger visions. They are submitting a grant proposal to their local government to build a maternity ward at the Health Center run by Foundation Ministries of Kenya. They say so many babies die while ladies struggle to reach a facility with equipment that can provide them with adequate care. They said we have equipment here at the Health Center and we need a building to let it work (we have an ultra sound machine and x-ray waiting until funds are available to build the facility to house this equipment).
The last thing they expressed is their desire to end the FGM (female genital mutilation) tradition within their community. It is estimated that over 50% of the young ladies that endure this tradition will either drop out of school and be married or suffer irreparable damage to their bodies. They each are committed to raising a building that they will man during this time and support any young lady who desires to refuse the "cut" as they call it locally.
I wanted to get their story out and present this to all of you who might read of their struggles. My request is this, that you pray and seek God if you are to assist them or become a partner in their struggle. They are registered in Kenya and they have gathered a little fund to open an account (400 shillings) about $5 US Dollars. Could it be that you could give half that, $2.00 a month, to assist them in this very worthy cause encouraging them that with just a handful of people they truly can make a difference, save marriages, children, and community from some of these devastating issues they are tackling!
Multi Purpose Building Project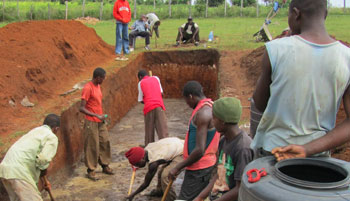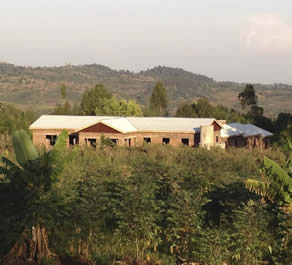 The multi-purpose building is in some ways a project that has grown from a number of different needs in the mission.
We desired to have a building or a place where we could have training seminars for the health clinic as well as for the pastors and churches.
We desired to have a suitable site to house medical groups and visitors when they come from the US and other countries to work at the health clinic or at the mission.
We broke ground in January of 2011 with enough money to make the bricks and to put in the foundation. We completed that foundation and cisterns in the second week of February.
In January and February of 2012 we were able to build all the walls and lintels ready for the roof. The walls were built of bricks that had been made on site in the previous year. It took approximately 30000 bricks to build the walls.
In January and February of 2013 we were able again to continue construction on the building. We built the trusses from rough sawn local wood and also installed all the metal roofing. A group from Virginia was also able to come and help with the roofing of the building. They were a great help and we are grateful for all their help and giving to the mission and the project.
We will continue to raise funds to complete this project and to have it ready for the medical groups that will come in the future. The next stage in the project would be the windows and doors. The cost for this stage is estimated at about $5000. We will then install the electrical and plumbing as well as the interior finish of the ceilings, walls and floors. We estimate the total cost to complete this project and to furnish the building will be approx. $20,000.
Thanks again for all your donations and support in this endeavor.
Clean Water Project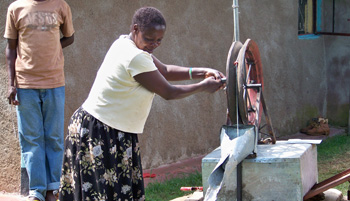 Foundation Ministries was able to begin a clean water project in rural Kenya a couple of years ago. With 80% of the people suffering from Typhoid, Malaria, Diarrhea, and other diseases as a result of drinking contaminated water, we felt it was imperative to assist them with inexpensive means to help deal with the problem. We started with installing hand dug wells and teaching them to seal the top to eliminate surface water contamination. To further this process we introduced the rope pump allowing for the well to remain closed and still extract the water.
Much of the water from these shallow wells still had contaminates and was not clean potable water. Our next step was to introduce two means of water purification. These being a bio-filter the other a solar filter purification system. With assistance from engineers from Virginia we were able to provide these to some of the local people at an affordable price. We pray that you might assist us to continue this worthy project by sponsoring a family ($150.00 for rope pump and bio-filter). It is our goal to have these installed in as many schools, clinics, and private homes as possible in assisting in the prevention of these deadly diseases.