Foundation Ministries is a group of non-denominational Christians and churches committed to mission ministries. Birthed from the vision to go "into all the world and make disciples" our small family church in Ohio was able to register Foundation Ministries in Kenya in 1989 as a way to answer this great commission. Since that simple beginning, we have grown into church birthing and building, youth ministries, women ministries, community development projects, leadership training and education. We have also expanded our ministry into central Africa in the country of Malaw. We will continue to expand as God leads and provides for the growth of the work both spiritually and physically. Our mission commitment is to utilize every available resource to reach the lost, strengthen the weak, give hope to the hopeless, and join the undeveloped communities in creating opportunities for self advancement and community provisions.
We are currently fulfilling this commitment through agricultural programs, medical facilities, youth development programs, and several small community development projects. Jesus said "Truly I say to you, Inasmuch as you did it to one of the least of these My brothers, you have done it to Me".
Foundation Ministries Inc. is composed of dedicated men and women who through lives of love and with hearts to give, volunteer both time and service to ensure that the work of God's Kingdom reaches those who are so very often forgotten. Our ministry is committed to work in the most rural areas, with those who have little hope except what is found in Christ. Because of this, we ensure that 100% of every dollar donated reaches it designated purpose or person.
It is our prayer here at Foundation Ministries that you will identify with our vision and activities in presenting a simple yet complete gospel message of faith and hope in Christ. Please visit our activity page and see if there is something, which will stir your heart to pray for us or join with us in assisting all those we reach in "making disciples" for Jesus Christ.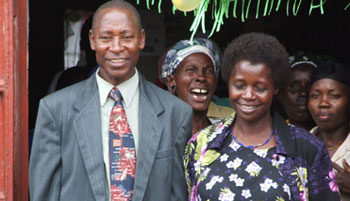 Meet Our Members
Meet Bishop William and Bina Magabe directors of the mission work in East Africa. William and Bina's dedicated and sacrificial life has been a witness of their gospel message. They are the proud parents of eight children of which six has finished school and two are still at home. They are grandparents to seven grandchildren who keep them young and active. William's burden to see the underprivileged raised from poverty drives his service in Christ. William and Bina are farmers and grow all the food they eat as they live on meager means. We ask that you pray for them and if God lays on your heart to assist them in any way please answer that burden.